Mint State Gold Buffalo's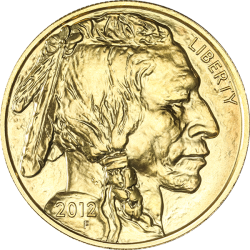 2023 $50 American Gold Buffalo BU (BU)
Introducing the 2023 $50 American Gold Buffalo coin, one of the most iconic and beloved coins in American history. The American Gold Buffalo is made of 99.99% pure gold and has a weight of 1 troy ounce. This coin is legal tender with a face value of $50, but its true value far exceeds that due to its high gold content and exceptional quality.
The obverse of the coin features a portrait of a Native American, while the reverse features an image of a buffalo. The intricate details and stunning design of this coin make it a favorite among collectors and investors alike.
Investing in the 2023 $50 American Gold Buffalo is a smart move for several reasons. First, gold has long been considered a safe-haven asset and a hedge against inflation. As the value of the U.S. dollar fluctuates, gold tends to hold its value or even increase in value, making it an excellent addition to any investment portfolio. Second, the American Gold Buffalo is highly collectible, with its stunning design and rarity making it a favorite among collectors.
When you purchase the 2023 $50 American Gold Buffalo from Texas Bullion Exchange, you can be sure you are getting a high-quality product from a trusted source. We are committed to providing our customers with the best possible service and products, and we stand behind everything we sell.
Don't miss out on the opportunity to own this exceptional piece of American history. The 2023 $50 American Gold Buffalo is a must-have for any serious collector or investor. Purchase from TBE today and add this stunning coin to your collection or investment portfolio.
Specifications:
Denomination: $50

Weight: 1 troy ounce

Diameter: 32.7 mm

Thickness: 2.95 mm

Composition: 99.99% gold

Obverse: Portrait of a Native American by James Earle Fraser

Reverse: Image of a buffalo

by James Earle Fraser