Commems & Others
Shipwreck S.S. Central America Pinch of Gold PCGS Certified Bob Evans Signature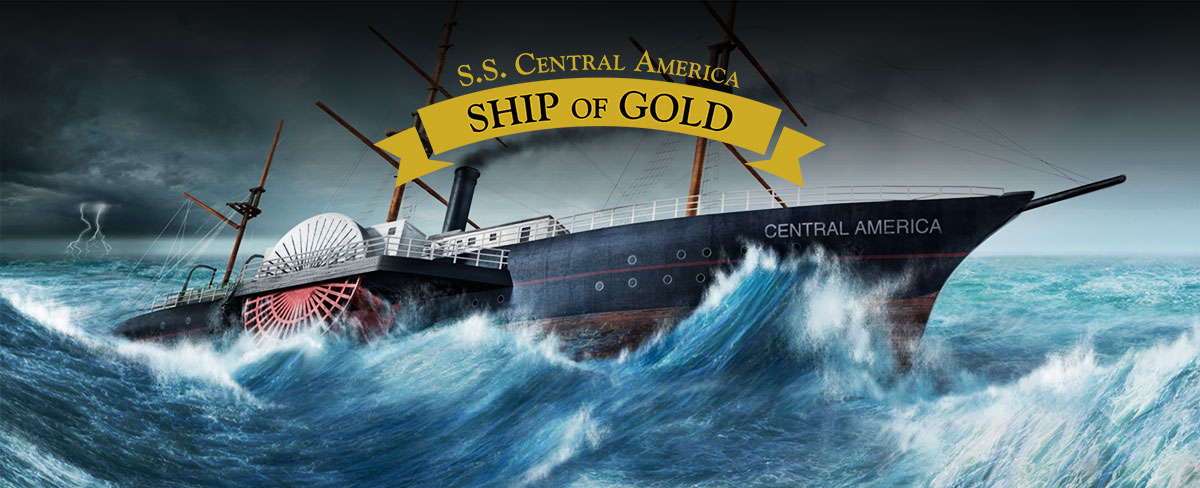 Discover a piece of American history with the 1857  SS Central America "Ship of Gold" Gold Pinch. This gold pinch holds a fascinating story intertwined with one of the most famous shipwrecks in American history.
In 1857, the SS Central America sank, taking with it a staggering 30,000 pounds of gold. It wasn't until 1988 that the wreck of the SS Central America was discovered, resting 7,000 feet beneath the waves of the Atlantic Ocean. Today, you have the opportunity to own a piece salvaged from this historic shipwreck.
Product Highlights:
Gold Pinch arrives in a PCGS protective plastic slab.

Certified by the PCGS as authentic gold from the SS Central America.

Held within a capsule space at the center of the slab.

The slab's label is signed by Bob Evans, Chief Scientist of the SS Central America Ship of Gold Project.

The term "gold pinch" harkens back to the days of the American West, where individuals panned for gold in riverbeds. While most found small flakes of gold and the occasional nugget, these were often used as payment in bars. Miners would place a pinch of gold on the bar for a double shot of liquor, symbolizing the value of their findings.
The recovery of the gold lost in the SS Central America's tragic sinking has captured the imagination of many. This event caused a significant impact on the American economy, leading to a run on banks and the Panic of 1857. Owning a piece of this history is not only a remarkable addition to your collection but also a tangible link to a pivotal moment in American financial heritage.
Each 1857 SS Central America Gold Pinch comes with a PCGS protective plastic slab, ensuring its authenticity and preservation. The label, known as the SS Central America "Ship of Gold", bears the signature of Bob Evans, adding an extra layer of significance to this unique item.
Texas Bullion Exchange Inc is proud to offer this exceptional piece of history, allowing you to own a tangible artifact from the SS Central America shipwreck. Invest in a piece of American heritage and secure a captivating conversation piece for generations to come.
Please note: The availability of the 1857 SS Central America Gold Pinch is limited. Don't miss your chance to own this remarkable treasure. Place your order today with Texas Bullion Exchange Inc, the trusted destination for exceptional coins and bullion.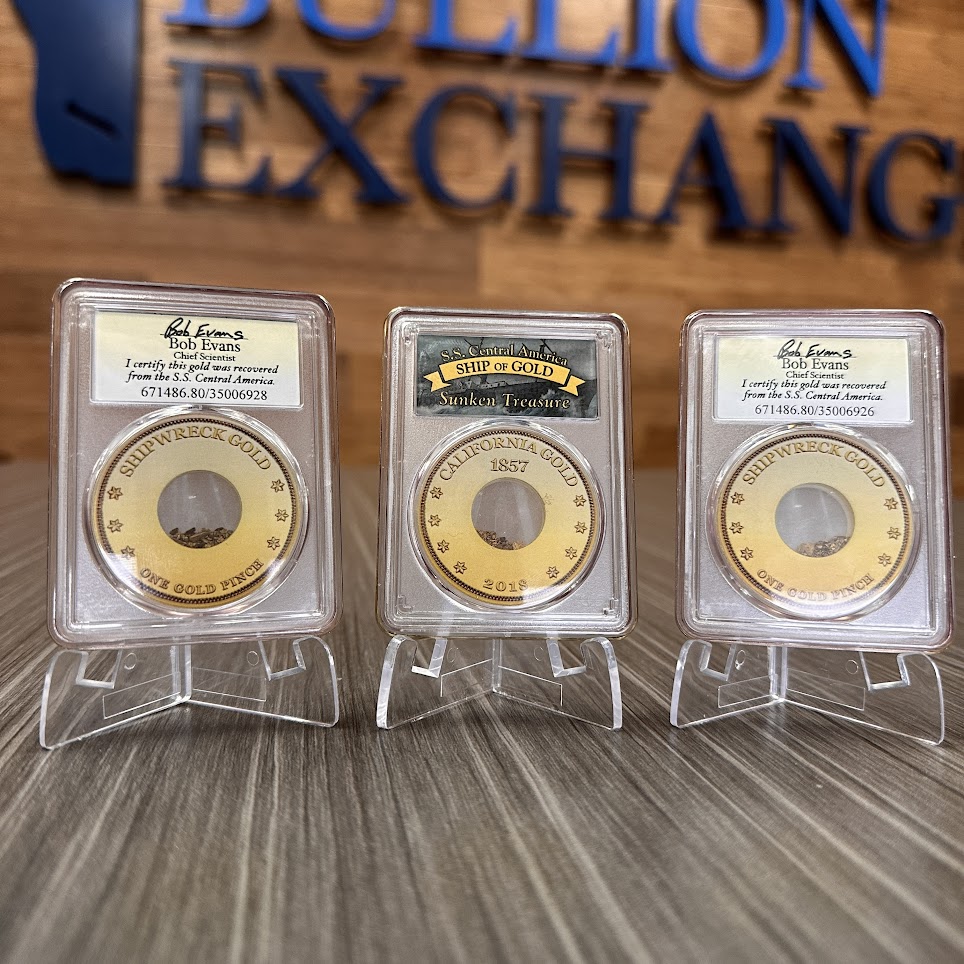 Real American Treasure!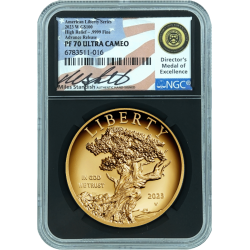 2023-W $100 Gold High Relief NGC Miles Standish Adv. Rel. PF70
2023-W $100 American Liberty 24K Gold High Relief
NGC Advanced Releases PF 70
w/ Miles Standish Signature
Welcome to Texas Bullion Exchange, where trust and excellence meet in the world of precious metals. We are proud to present the prestigious 2023-W $100 High Relief NGC Advance Releases PF70 with the exclusive Miles Standish Signature. This coin exemplifies the pinnacle of numismatic artistry and investment potential.
Coin Specifications Table:
Coin: 2023-W $100 High Relief
Weight: 1 troy ounce (31.1 grams)
Purity: .9999 fine gold
Diameter: 32.7 mm
Design: (Obv) Bristelcone Pine (Rev) Bald Eagle
Mint: United States Mint (West Point)
Grade: NGC PF70 Advance Releases
Signature: Miles Standish
Mintage: 12,500
Miles Standish PF70 Adv Rel Population: (75)
The High Relief Coin series began in 2015 with a different coin being minted every other year since, The 2023 being the 5th coing in the series boasts a rich history of pushing the boundaries of coin design.
The obverse (heads) design features a bristlecone pine, a species native to California, Nevada, and Utah, thought to be the oldest living organisms on Earth, living up to 5,000 years. Bristlecone pines grow in places where other plants cannot and are often the species first to repopulate the land after cataclysmic changes, such as a lava run or glacial runoff. Inscriptions are "LIBERTY," "IN GOD WE TRUST," and "2023."
The reverse (tails) design depicts a young bald eagle standing on a rocky outcropping moments before it takes flight. Inscriptions are "UNITED STATES OF AMERICA," "1 OZ.," ".9999 FINE GOLD," "$100," and "E PLURIBUS UNUM."
Investing in the 2023-W $100 High Relief NGC PF70 with the Miles Standish Signature is a rare opportunity. Graded PF70 by NGC, these coins are deemed flawless, setting them apart as a prized collector's item. The extremely low population of PF70 coins further elevates their exclusivity and desirability among collectors.
Texas Bullion Exchange is honored to offer the exclusive Standish Signature Label, which adds an extra layer of authenticity and collectability to these exceptional coins. Miles Standish, a renowned numismatist, lends his signature to the label, reinforcing the coin's distinction and value.
The 2023-W $100 High Relief is not only a symbol of timeless beauty but also a testament to the craft of the United States Mint. With low mintage numbers, these coins are highly sought after and represent a rare investment opportunity.
As one of the lowest minted modern gold coins and one of the only Modern 24 Karat U.S. Minted gold coins, the 2023-W $100 High Relief holds an exceptional place in the world of precious metals. Its .9999 fine gold purity adds to its intrinsic value, making it a tangible and secure store of wealth.
Secure a piece of numismatic artistry and investment excellence with the 2023-W $100 High Relief NGC Advance Releases PF70 with the Miles Standish Signature. Invest with confidence, secure your financial future, and experience the exceptional service and outstanding quality that we are proud to offer. Trust Texas Bullion Exchange, the Lone Star State's Most Trusted Dealer.
Use PROMO CODE (ALHR23) for $50 off and FREE SHIPPING!