American Platinum Eagles - Proof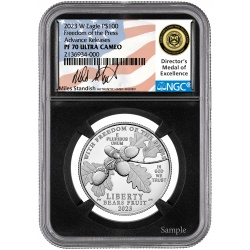 2023-W $100 Platinum Eagle NGC Adv Rel PF70 Standish Signature (PF70)
The five-year (2021-2025) First Amendment to the United States Constitution Platinum Proof Coin Series features a new obverse design each year of issuance. Freedom of religion, freedom of speech, freedom of the press, freedom to assemble, and freedom to petition. These 99.95 percent platinum proof coins reflect the five freedoms enshrined in the First Amendment— "Congress shall make no law respecting an establishment of religion, or prohibiting the free exercise thereof, or abridging the freedom of speech, or of the press; or the right of people peaceably to assemble, and to petition the Government for a redress of grievances."
    This series uses the lifecycle of the oak tree from seedling to a mighty oak as a metaphor for our country's growth as a Nation that values freedom. Liberty grows to a thing of strength and beauty from a seed—our Bill of Rights. Each of the freedoms enumerated in the First Amendment contributes to the growth and development of the Nation.
   The third coin in the series is the 2023 First Amendment to the United States Constitution Platinum Proof Coin – Freedom of the Press.
   The obverse design portrays the branch of a mature oak tree with acorns amid the inscription "WITH FREEDOM OF THE PRESS LIBERTY BEARS FRUIT." Additional inscriptions are "IN GOD WE TRUST," "E PLURIBUS UNUM," and "2023." It was designed by Artistic Infusion Program Designer Donna Weaver and sculpted by United States Mint Chief Engraver Joseph Menna.
    The common reverse design for this coin series depicts an eagle in flight and an olive branch in its talons. Inscriptions are "UNITED STATES OF AMERICA," "$100," "1 OZ.," and ".9995 PLATINUM."

Coin Highlights:
Mintage Limit: 12,000
Advance Releases Standish Pop: (65)
3rd coin in the 5-coin series (2021-2025)
Exclusive Advance Releases Product!