Certified Gold Eagles
2022 $25 American Gold Eagle NGC MS70 TBE Label
2022 1/2 oz. $25 American Gold Eagle NGC MS70 TBE Label
---
With more than 22 million troy ounces sold since 1986, American Eagle Gold Bullion Coins are among the world's leading investment-grade gold bullion coins. American Eagles use the durable 22-karat standard established for gold circulating coinage over 350 years ago. They contain their stated amount of pure gold, plus small amounts of alloy. This creates harder coins that resist scratching and marring, which can diminish resale value. American Eagle Gold Bullion Coins are available in four sizes: one ounce, one-half ounce, one-quarter ounce, and one-tenth ounce.
---
Minted to exacting standards, the obverse (front) design is inspired by what's often considered one of America's most beautiful coins: Augustus Saint-Gaudens' celebrated $20 gold piece, minted from 1907-1933. Legacy details have been restored for the obverse design including modifications to the Capitol Building, stars, torch, sun rays, and other design elements based on the original bronze cast.


To complement the coins submitted to NGC, the official grading service of the American Numismatic Association (ANA) since 1995, will offer an exclusive Texas Bullion Exchange certification label for qualifying MS70 coins. The label features the TBE Bull Logo with the Texas Lone Star Flag in the background
The reverse design which was designed by Artistic Infusion Program Designer, Jennie Norris and sculpted by Medallic Artist Renata Gordon features a portrayal of an eagle.
Obverse Inscriptions: LIBERTY; YEAR; Artist's Initials
Reverse Inscriptions: UNITED STATES OF AMERICA; E PLURIBUS UNUM; IN GOD WE TRUST; 50 Dollars and 1/2 Oz. Fine Gold
Artist Information
Obverse Designer - Augustus Saint-Gaudens

Reverse Designer - Jennie Norris
---
| | |
| --- | --- |
| Metal Type | Gold |
| Metal Content | 1/2 Troy Oz |
| Year | 2022 |
| Purity | 22 Karat |
| Diameter | 1.063 inches |
| Mint Mark | None |
| Grading Service  | NGC |
| Grade | Mint State 70 |
| Finish  | Mint State |
| Label | TBE Texas Flag Label |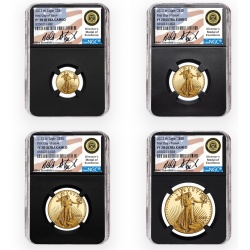 2022-W Gold Eagle PF70 Miles Standish 4 Coin Set (PF70)
•Proof American Gold Eagles
Product Details
   The latest 2022 American Gold Eagle reverse design is now in a Proof finish! These sold out immediately at the mint, but now you can get them with a special signature from Miles Standish!
   Michael "Miles" Standish is a prominent numismatist, author, coin grader, and industry innovator, He was the first full-time coin grader at PCGS and joined NGC as a vice president in 2015 having handled many of the greatest US rarities such as the finest 1913 Liberty Nickel and the finest 1804 Dollar. Standish's many contributions to the hobby were recognized in 2011 by US Mint Director Edmund Moy, who presented Standish with the coveted Director's Coin for Excellence Medal. He was also named one of the top ten most influential people in numismatics by Coin World Magazine.
    Each of these four gold coins from $5, $10, $25, and $50 denominations has a perfect PF70 UCAM grade from NGC, and a First Day of Issue designation. Miles Standish Signature Series American Gold Eagle Proof 70's are available as single coins and even a full Date Run featuring one of each Gold American Eagle minted since 1986.
   Demand for these hand-signed coins is expected to outpace supply as investors and collectors realize the tremendous investment potential of these coins. The Miles Standish Signature Series is also available in Silver American Eagles, Gold American Buffalo's, Platinum American Eagles, and Palladium American Eagles. Please contact us for more information about the Miles Standish Signature Series Proof 70 coins available through Texas Bullion Exchange Inc. Add 1.85 oz of pure gold to your collection in the most exclusive way today!
Coin Highlights
•Contains 1.85 troy ounce of .999 fine gold.
•Hand Signed Miles Standish Directors Medal of Excellence NGC Label
•Black Core NGC Holder
•2022 marks the 36th year of the American Gold Eagle series.
•Holds a face value of $5, $10, $25, and $50 USD and bears legal tender status, backed by the United States Government.
•Obverse features the infamous Lady Liberty design, an original portrait by Augustus Saint-Gaudens for the Double Eagle gold coin, from 1907 to 1932
•The Type 2 reverse, introduced Mid 2021, features a striking close-up portrait of the American Bald Eagle by Jennie Norris.2022 marks the second issue of the new reverse design.
Ask about how to receive a FREE copy of the American Silver Eagles Book Signed by Miles Standish! (855)-344-COIN