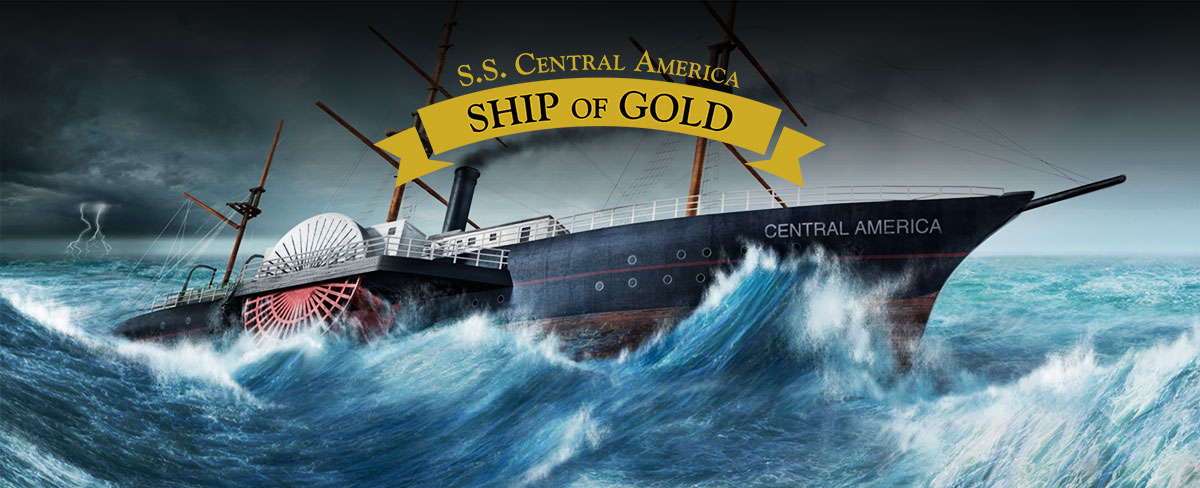 Discover a piece of American history with the 1857  SS Central America "Ship of Gold" Gold Pinch. This gold pinch holds a fascinating story intertwined with one of the most famous shipwrecks in American history.
In 1857, the SS Central America sank, taking with it a staggering 30,000 pounds of gold. It wasn't until 1988 that the wreck of the SS Central America was discovered, resting 7,000 feet beneath the waves of the Atlantic Ocean. Today, you have the opportunity to own a piece salvaged from this historic shipwreck.
Product Highlights:
Gold Pinch arrives in a PCGS protective plastic slab.

Certified by the PCGS as authentic gold from the SS Central America.

Held within a capsule space at the center of the slab.

The slab's label is signed by Bob Evans, Chief Scientist of the SS Central America Ship of Gold Project.

The term "gold pinch" harkens back to the days of the American West, where individuals panned for gold in riverbeds. While most found small flakes of gold and the occasional nugget, these were often used as payment in bars. Miners would place a pinch of gold on the bar for a double shot of liquor, symbolizing the value of their findings.
The recovery of the gold lost in the SS Central America's tragic sinking has captured the imagination of many. This event caused a significant impact on the American economy, leading to a run on banks and the Panic of 1857. Owning a piece of this history is not only a remarkable addition to your collection but also a tangible link to a pivotal moment in American financial heritage.
Each 1857 SS Central America Gold Pinch comes with a PCGS protective plastic slab, ensuring its authenticity and preservation. The label, known as the SS Central America "Ship of Gold", bears the signature of Bob Evans, adding an extra layer of significance to this unique item.
Texas Bullion Exchange Inc is proud to offer this exceptional piece of history, allowing you to own a tangible artifact from the SS Central America shipwreck. Invest in a piece of American heritage and secure a captivating conversation piece for generations to come.
Please note: The availability of the 1857 SS Central America Gold Pinch is limited. Don't miss your chance to own this remarkable treasure. Place your order today with Texas Bullion Exchange Inc, the trusted destination for exceptional coins and bullion.