Search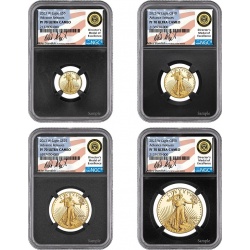 2023-W Gold Eagle 4-Coin Set NGC PF 70 Adv Rel Standish Signature
Introducing the highly sought-after 2023-W American Gold Eagle 4-Coin Set NGC PF 70 Advance Releases, signed by the legendary Miles Standish. This stunning set includes four coins, each with a denomination of $5, $10, $25, and $50, and all made of 99.99% pure gold. Each coin has been graded by the Numismatic Guaranty Corporation (NGC) and has received the highest grade possible, PF 70 Ultra Cameo.
These coins are part of the Advance Releases series, meaning they were among the first produced by the United States Mint. The set is also signed by Miles Standish, a highly respected numismatist and one of the most influential people in the coin-collecting community.
The obverse of each coin features a depiction of Lady Liberty, while the reverse features a bald eagle with outstretched wings. The coins are meticulously crafted and have a stunning finish, with a frosted design that contrasts beautifully against the highly reflective background.
Investing in these coins is a smart move for several reasons. First, gold has long been considered a safe-haven asset and a hedge against inflation. As the value of the U.S. dollar fluctuates, gold tends to hold its value or even increase in value, making it an excellent addition to any investment portfolio. Second, the 2023-W American Gold Eagle 4-Coin Set is highly collectible, with each coin featuring a unique design and stunning finish that is sure to impress any collector.
When you purchase the 2023-W American Gold Eagle 4-Coin Set from Texas Bullion Exchange, you can be sure you are getting a high-quality product from a trusted source. We are committed to providing our customers with the best possible service and products, and we stand behind everything we sell.
Don't miss out on the opportunity to own this exceptional set of American Gold Eagle coins. The 2023-W American Gold Eagle 4-Coin Set NGC PF 70 Advance Releases, signed by Miles Standish, is a must-have for any serious collector or investor. Purchase from Texas Bullion Exchange today and add these stunning coins to your collection or investment portfolio.
---
Advance Releases Explained:
Click Here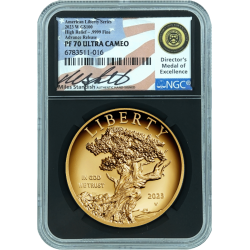 2023-W $100 Gold High Relief NGC Miles Standish Adv. Rel. PF70
2023-W $100 American Liberty 24K Gold High Relief
NGC Advanced Releases PF 70
w/ Miles Standish Signature
Welcome to Texas Bullion Exchange, where trust and excellence meet in the world of precious metals. We are proud to present the prestigious 2023-W $100 High Relief NGC Advance Releases PF70 with the exclusive Miles Standish Signature. This coin exemplifies the pinnacle of numismatic artistry and investment potential.
Coin Specifications Table:
Coin: 2023-W $100 High Relief
Weight: 1 troy ounce (31.1 grams)
Purity: .9999 fine gold
Diameter: 32.7 mm
Design: (Obv) Bristelcone Pine (Rev) Bald Eagle
Mint: United States Mint (West Point)
Grade: NGC PF70 Advance Releases
Signature: Miles Standish
Mintage: 12,500
Miles Standish PF70 Adv Rel Population: (75)
The High Relief Coin series began in 2015 with a different coin being minted every other year since, The 2023 being the 5th coing in the series boasts a rich history of pushing the boundaries of coin design.
The obverse (heads) design features a bristlecone pine, a species native to California, Nevada, and Utah, thought to be the oldest living organisms on Earth, living up to 5,000 years. Bristlecone pines grow in places where other plants cannot and are often the species first to repopulate the land after cataclysmic changes, such as a lava run or glacial runoff. Inscriptions are "LIBERTY," "IN GOD WE TRUST," and "2023."
The reverse (tails) design depicts a young bald eagle standing on a rocky outcropping moments before it takes flight. Inscriptions are "UNITED STATES OF AMERICA," "1 OZ.," ".9999 FINE GOLD," "$100," and "E PLURIBUS UNUM."
Investing in the 2023-W $100 High Relief NGC PF70 with the Miles Standish Signature is a rare opportunity. Graded PF70 by NGC, these coins are deemed flawless, setting them apart as a prized collector's item. The extremely low population of PF70 coins further elevates their exclusivity and desirability among collectors.
Texas Bullion Exchange is honored to offer the exclusive Standish Signature Label, which adds an extra layer of authenticity and collectability to these exceptional coins. Miles Standish, a renowned numismatist, lends his signature to the label, reinforcing the coin's distinction and value.
The 2023-W $100 High Relief is not only a symbol of timeless beauty but also a testament to the craft of the United States Mint. With low mintage numbers, these coins are highly sought after and represent a rare investment opportunity.
As one of the lowest minted modern gold coins and one of the only Modern 24 Karat U.S. Minted gold coins, the 2023-W $100 High Relief holds an exceptional place in the world of precious metals. Its .9999 fine gold purity adds to its intrinsic value, making it a tangible and secure store of wealth.
Secure a piece of numismatic artistry and investment excellence with the 2023-W $100 High Relief NGC Advance Releases PF70 with the Miles Standish Signature. Invest with confidence, secure your financial future, and experience the exceptional service and outstanding quality that we are proud to offer. Trust Texas Bullion Exchange, the Lone Star State's Most Trusted Dealer.